Awario marketing hacks: How to see growing industry trends through the Topic clouds

Article summary
Playing a guessing game with marketing tactics and approaches is too risky. It is easy to make a wrong turn without reliable data. In this blog post, you will find tips and tricks around a super handy Awario feature to stay relevant with your content and keep engaged with your customers.
What are the hashtags your prospects use on Twitter most? What is the news they want to discuss online this week? What are your competitors going to do on YouTube?
You won't know until you start analyzing social media trends and tracking popular topics on the web.
There are two ways to keep up-to-date with all changes, news and innovations in your niche.
You can follow your competitors and thought leaders in your industry on socials, subscribe to relevant media newsletters, pay for in-depth reports dedicated to the next normal in your realm, and attend business events. In a nutshell, you need to become a tireless marketing researcher.
Also, you can tap into social listening to get industry-related insights and generate reporting around your target audience.
Many marketers use these methods in tandem.
Anyway, tracking industry trends helps you keep up with your competition, revise your marketing strategy, and launch effective campaigns.
Go ahead with preparations
Awario can be your personal trendwatcher!
It is a social listening and brand monitoring tool that scans popular social media networks, blogs, news sites, forums, and other sources on the web to reveal mentions of a keyword you want to analyze. On top of that, it makes the raw data easily digestible, turning all discoveries found into clear charts, graphs, and reports.
As a result, Awario speeds up topic research, facilitates competitive analysis, social media campaign tracking, and PR measurement, and gives you hints on marketing strategy improvements.
Sign up for a free Awario trial
See Awario in action with a free 7-day trial. No credit card required.
By signing up I agree to the Terms of Use and Privacy Policy
Let's set up your first alert together! Before we start, you can sign up for a 7-day free Awario trial.
You can create an alert only or a project with multiple alerts. For the latter, more inputs are required. On the flip side, it will show you more analytics around your topic, brand, or niche. That is why it is better to start with a project.
During your first session, you need to add a few phrases describing your product or service. In fact, these are your industry-related keywords. Then, type in your company's name and competitive brands and hit Create project.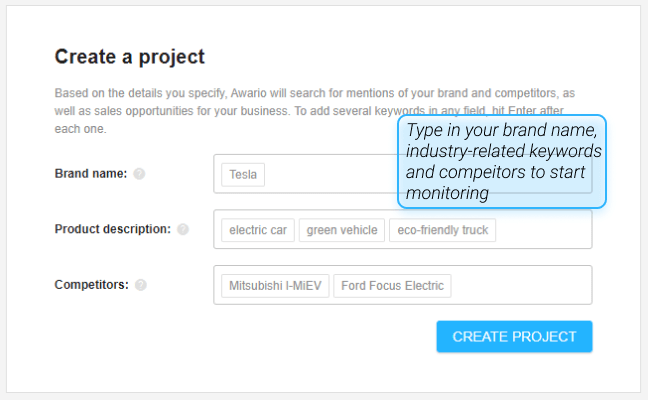 Awario will create some alerts for your brand and your competition automatically. You can change the search settings for each of them as you wish. For instance, switch to Boolean search and refine an alert with AND, OR, FROM, and other logic operators.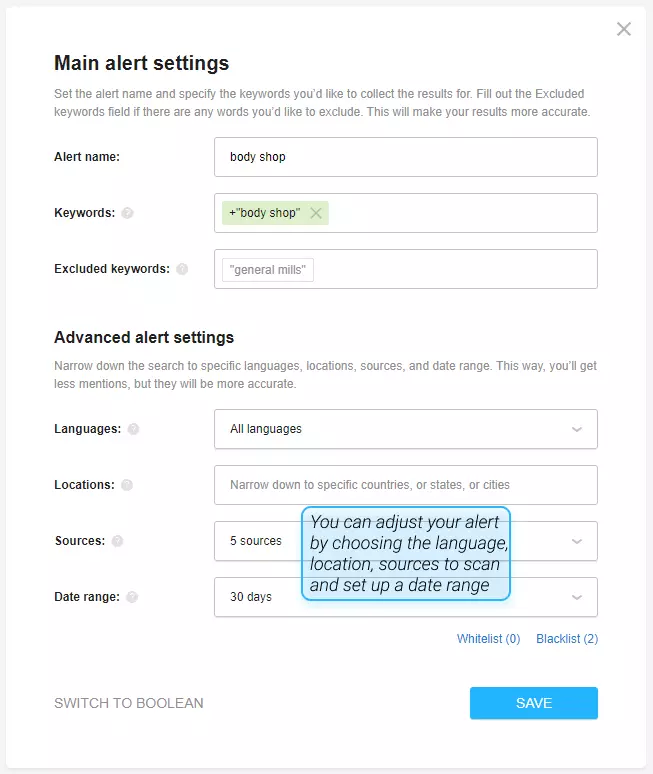 To narrow down the search, you also can choose language, location, sources to browse, and set date range. Excluding some keywords helps you get more accurate results, too. Use this feature for business names containing common words or proper nouns such as Tesla and Apple.
Here is how an Awario project for The Body Shop, an organic cosmetics brand, may look like: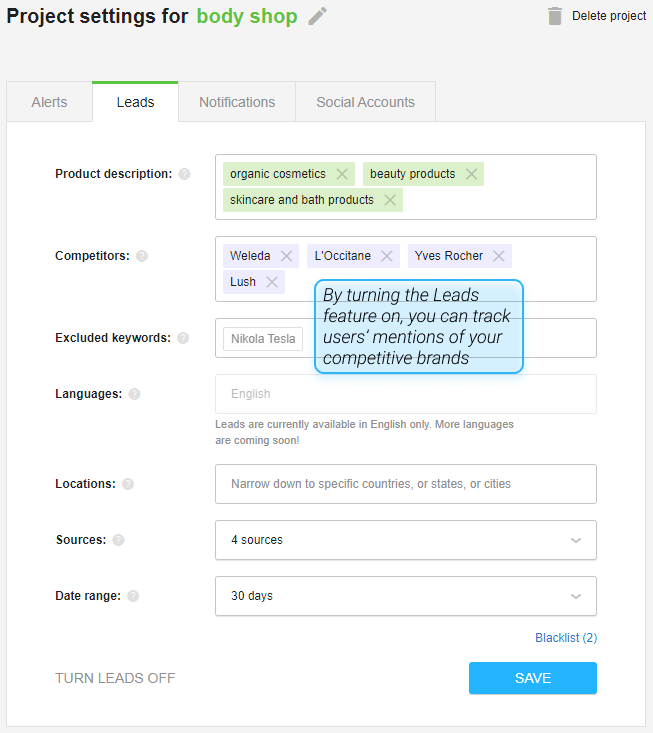 By the way, the Leads option enables you to track customers that mention your competitors on the web, including negative reviews and comments. Grab this guide to walk through every step of lead generation with Awario.
Today, however, we are interested in another feature — Topic cloud.
Your mentions are almost here!
Fire up brand monitoring and see Awario fetch social data in real-time.
By signing up I agree to the Terms of Use and Privacy Policy
Topic cloud hacks to fuel your business growth
Awario brings the first search results in a matter of seconds. Waiting for a while is still a great idea, though. It enables the tool to collect more mentions and do a thorough analysis. For example, the Body Shop mentions were collecting within a week.
Then, go to Dashboard, where the most important stats and updates are gathered. There are several widgets with various information there.
For example, you can check your keyword/topic/brand sentiment and see how this indicator changes over time. Also, Dashboard shows the Location, Language, Age, and Gender of users who mention your keyword online.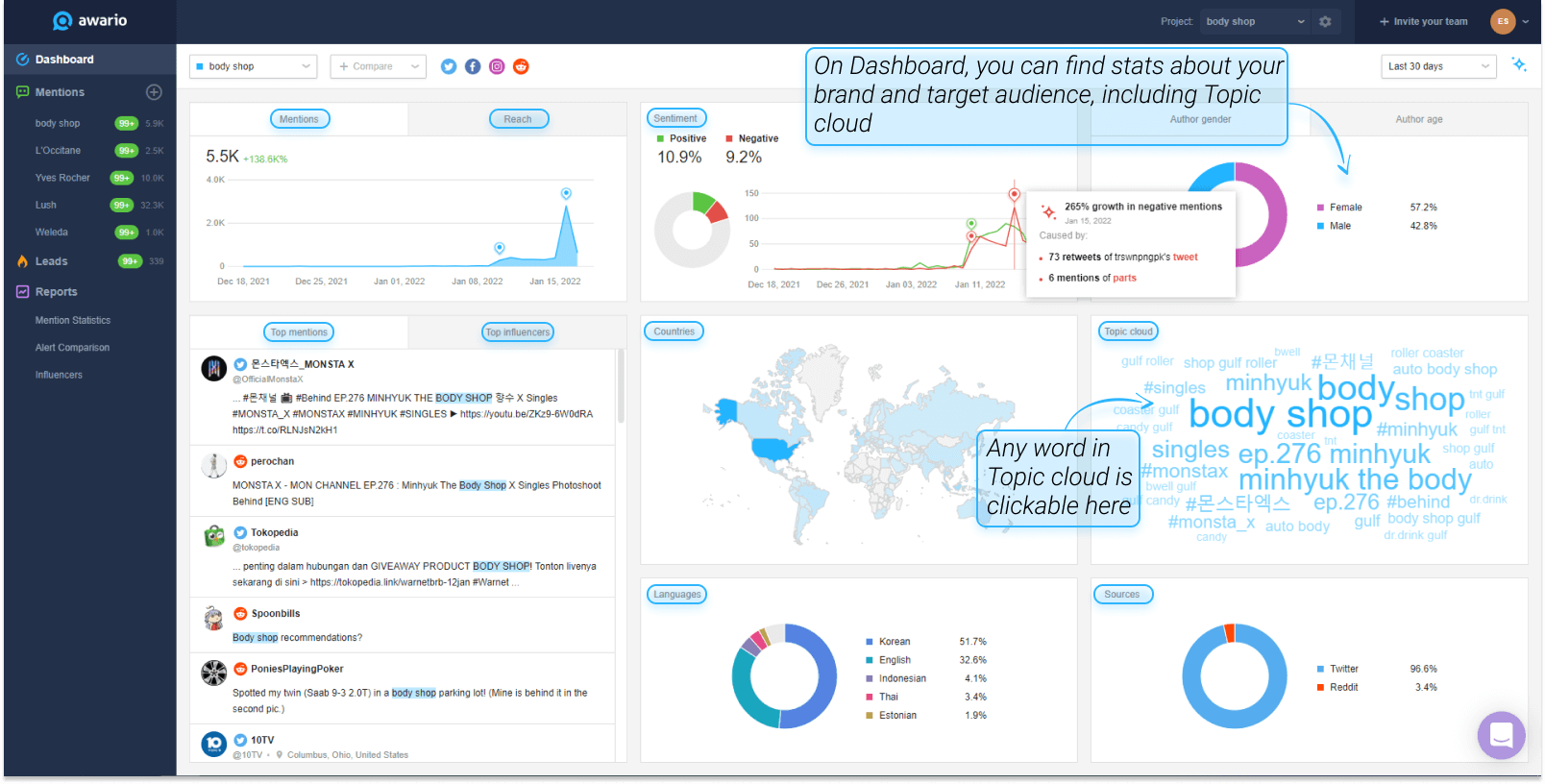 Topic cloud is one of the widgets. It contains popular queries, topics, and hashtags related to your keyword or brand.
How do you can benefit from this data?
1. Explore the audience's main topic of conversation online.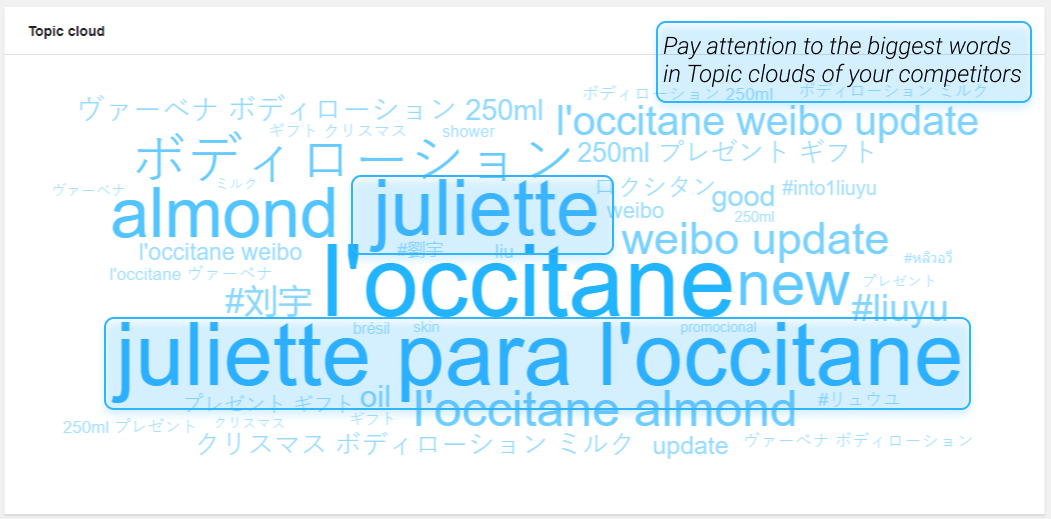 In Topic cloud, the bigger word or phrase is, the more people use it on the web. If you track a brand name with Awario, you will most likely see it as the most frequently mentioned word in your Topic cloud. It is only natural because people use business names in the majority of the posts dedicated to their products or services.
However, there are other phrases and keywords in Topic cloud. Sometimes these keywords are hints on a particular event or news around a company you track.
For example, in Topic cloud for L'Occitane, Juliette means Juliette Freire, a winner of a Brasilian TV show 'Big Brother Brasil 21'. Being the public vote, lawyer, and makeup artist, she has become one of Brazil's leading influencers in the number of followers on Instagram (33M), the largest among all participants in the show's history.
As a result, L'Occitane, an international retailer of body, face, fragrances, and home products, recently has started an ad collaboration with Juliette.
How many details are hidden behind one word, right? That is why researching your Topic cloud is a fascinating task! Sometimes, you need to be a true detective to get to the bottom of it.
As a quick point, clicking any word in the Topic cloud on Dashboard opens the feed with all its mentions. So, you don't need to google anything more in most cases. Reading tweets and Reddit comments, you can see what people are talking about right now and how they feel about the topic.
2. Choose the best time to jump on trends.
The Internet is teeming with buzzwords, social media challenges, and hot news. The majority of these topics grab the audience's attention for a short time because the hype around an event often dies out during a couple of days.
If you want to add a popular meme to your content calendar or take a viral TikTok challenge on socials, you need to hurry up while it is still relevant.
Topic cloud comes in handy again! You can switch between date ranges in your Dashboard or Mentions Statistics to identify trends and see how what people are saying about a topic is changing over time.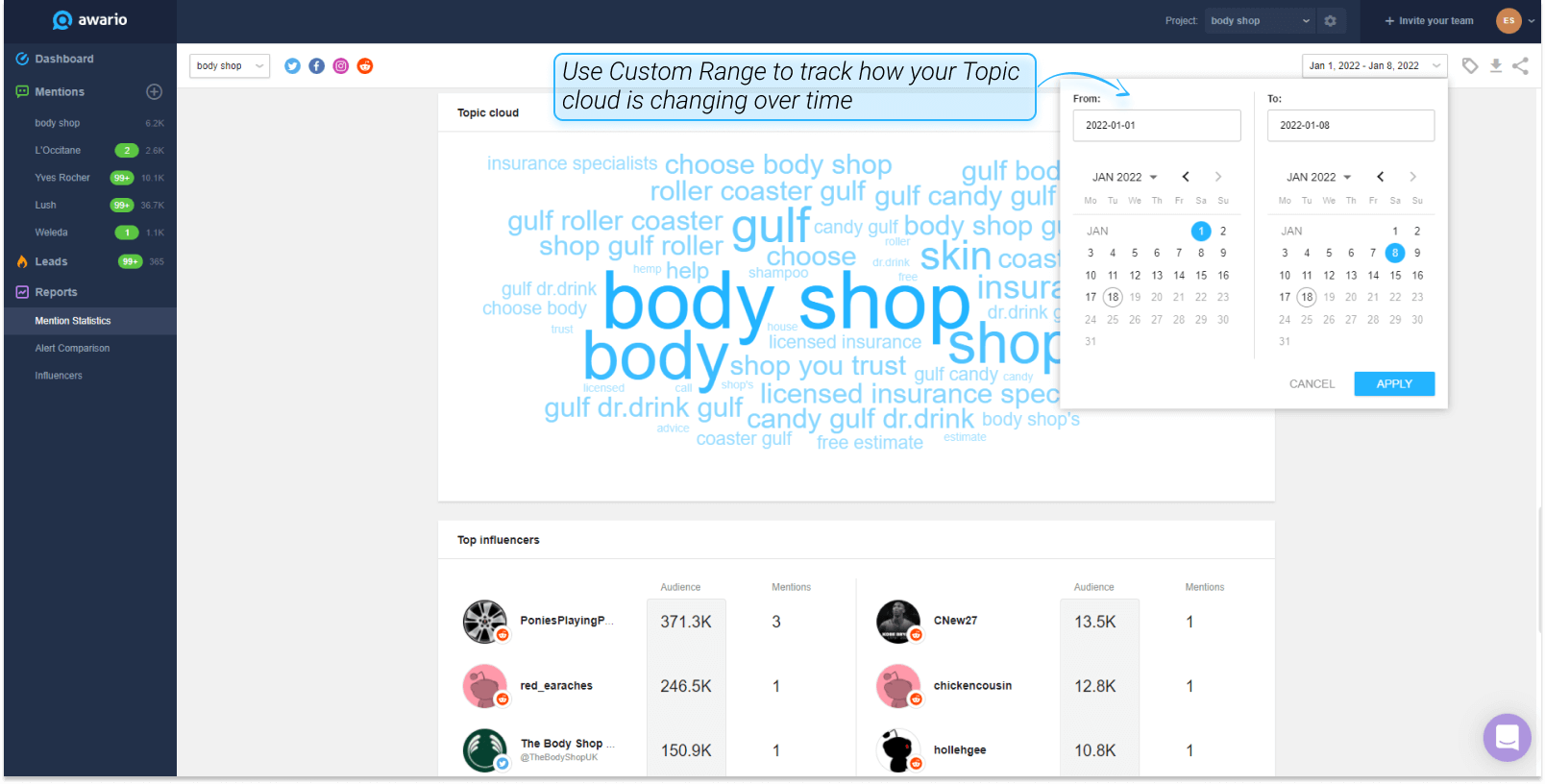 Choosing the date range, you have several options. Awario can show you all mentions in:
The last week,

The last month,

The last 7, 30, or 90 days,

The last ten years.
Adjusting Custom Range is available, too. As a result, you can analyze not only late mentions but also study historical data.
3. Identify when the competition makes strategy pivot.
Keeping up with competitive brands, among other things, implies constantly tracking their online activities. Since Awario collects all brand mentions on the web in Topic cloud, you can use this feature as a PR report dedicated to your competition.
It's about time to meet Alert comparison! It is a detailed custom report around your keyword or keywords that includes the Topic cloud as well. In Awario, you can compare up to 15 alerts at once. In the case of competitor tracking, the report enables you to reveal significant changes in their digital marketing strategies.
Have a look at these Topic clouds for The Body Shop's competitors. We have already found out that L'Occitane ran successful influencer marketing campaigns in Brazil. What's about Yves Rocher in Thailand?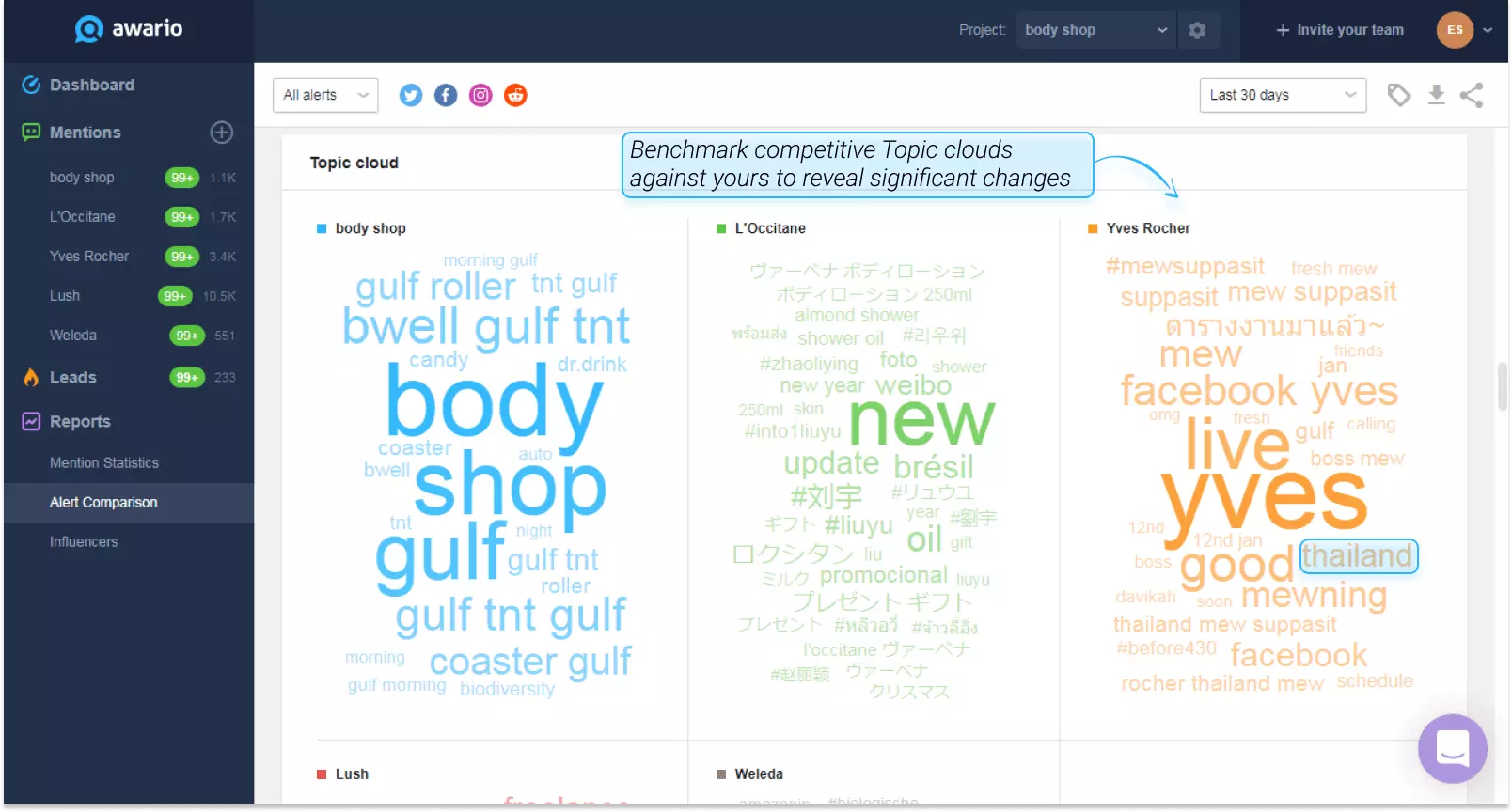 It turns out a French organic cosmetics brand is going to intensify its digital marketing activity in the region. In February, the Yves Rocher marketers will launch an online-oriented business concept as it pivots to Thai millennials. The brand collaborates with bloggers who are called "outside consultants" who can sell Yves Rocher products via their social media networks. What news for The Body Shop's CMO!
Moreover, it seems influencer marketing is still gaining momentum as one of the marketing trends for 2022.
4. Find hot discussions to join in.
The engagement level is one of the key social media metrics any company should measure. The high number of comments, likes, and shares shows that customers are interested in your brand. If they track your updates and respond to your campaigns, your business is at least in their field of vision. If they don't, you need to pay the online crowd's attention to your brand.
Joining in discussions around your industry news or topics relevant to your business is one of the approaches to try. To find out the discussions your customers are on, you can use the Topic cloud.
As you may recall, there are a lot of online mentions behind the biggest keywords in Topic cloud. Go to the Mentions feed to investigate who is tweeting or commenting on the topic. Use the filters to speed up the process. For instance, you can choose sources, reach, time range, sentiment, and language.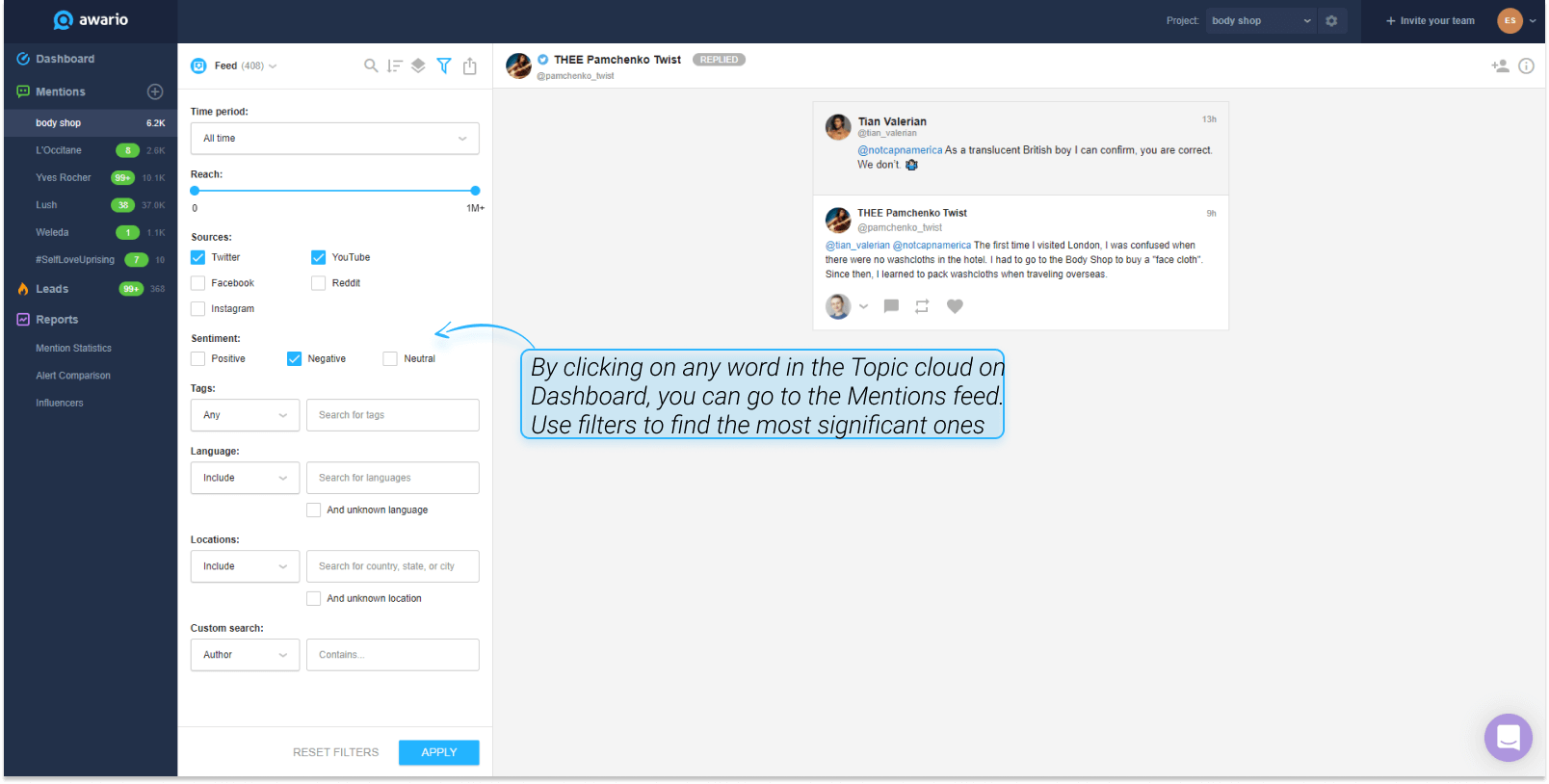 By the way, tracking brand mentions online helps improve your customer service on social media. Reply to negative reviews and answer questions about your products or services.
5. Execute hashtag campaigns brilliantly.
Social media algorithms treat hashtags differently. While Facebook almost ignores them, Instagram considers popular hashtags using as a convincing argument to boost your post in the feed. Twitter is widely known for its original hashtags around breaking news like #AusOpen or #COVID19.
Many companies also create branded hashtags to use regularly or during specific campaigns. How can you find the best options for your business? Take a look at the Topic cloud!
It provides you with popular industry-related keywords you can add to your branded hashtags. For instance, marketers of Weleda, the beauty products and naturopathic medicines producer, should think about using skin food as a regular hashtag. That is how one of their product is called. Additionally, it is concise and relevant to other beauty and skincare items they offer.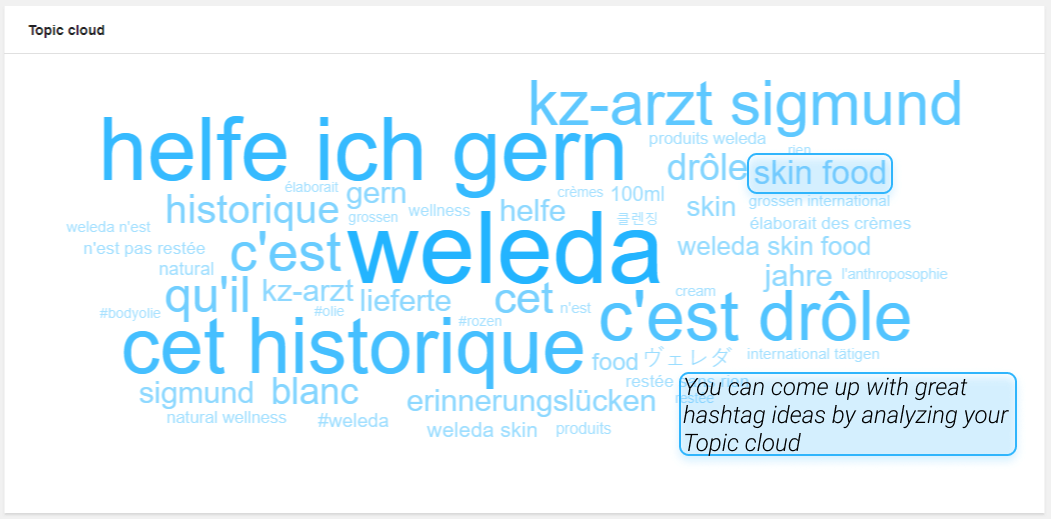 If you want to dive deeper into hashtag management, here are helpful guides to hashtag use on Instagram and Twitter.
6. Generate reports to brainstorm with teammates.
Finally, you have amassed reliable data set to analyze. Use the Reports to study three aspects of your brand's presence online.
First, take a look at Mention Statistics. In addition to Topic cloud, you will find there reporting dedicated to users who mentioned your keywords on the Internet — your target audience. Awario provides you with their:
Location,

Language,

Age,

Gender,

Account type (personal or business).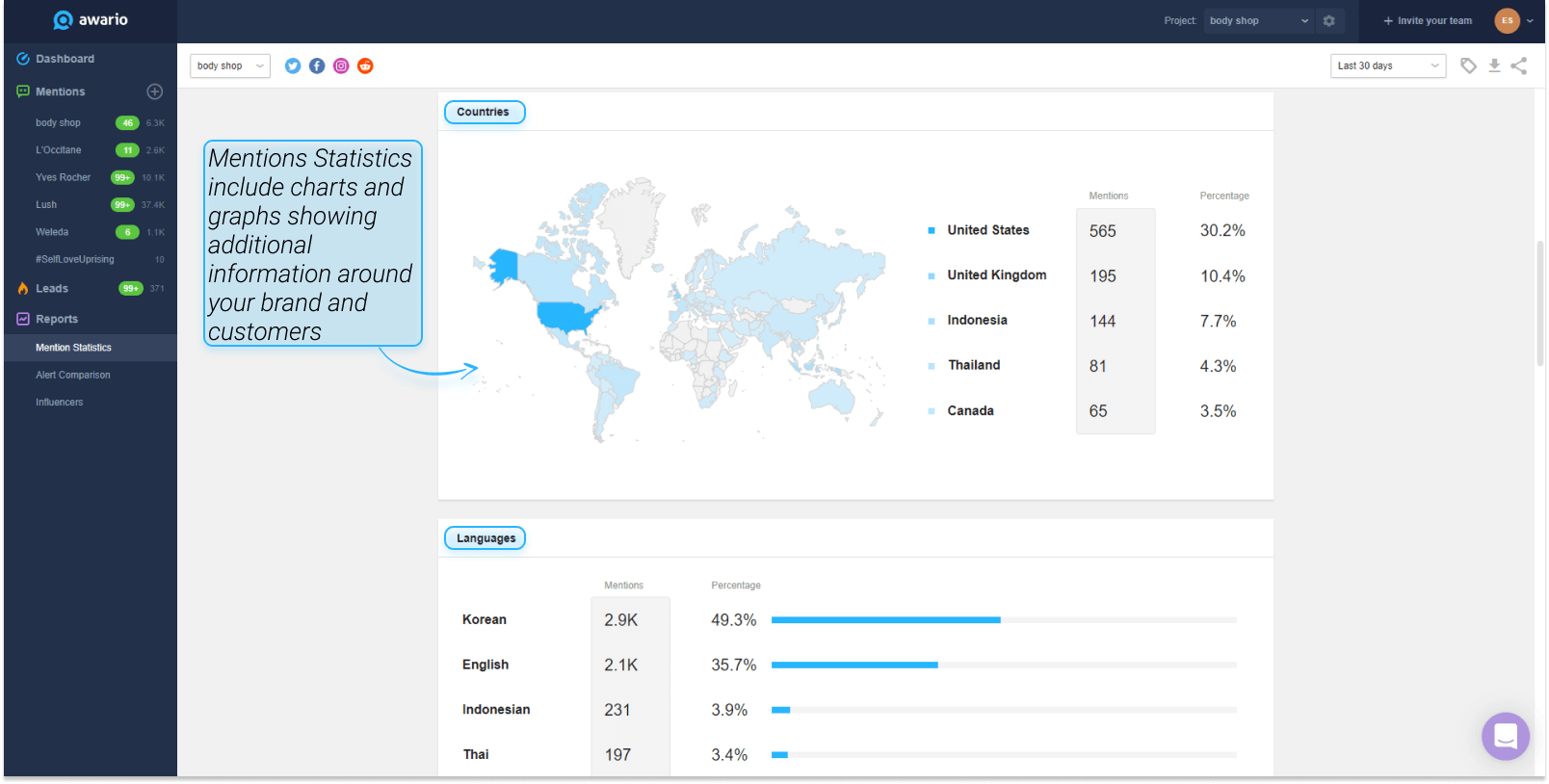 You can also analyze these indicators for your competitors by considering the Alert comparison report. Additionally, here are some widgets with other significant stats such as Share of Voice and sentiment. Naturally, you can compare your Topic cloud to your competition. All widgets are editable: add, drag, or delete them to prepare a custom report with more important points for your boss or team. By the way, you can share it via URL or download it as a PDF document.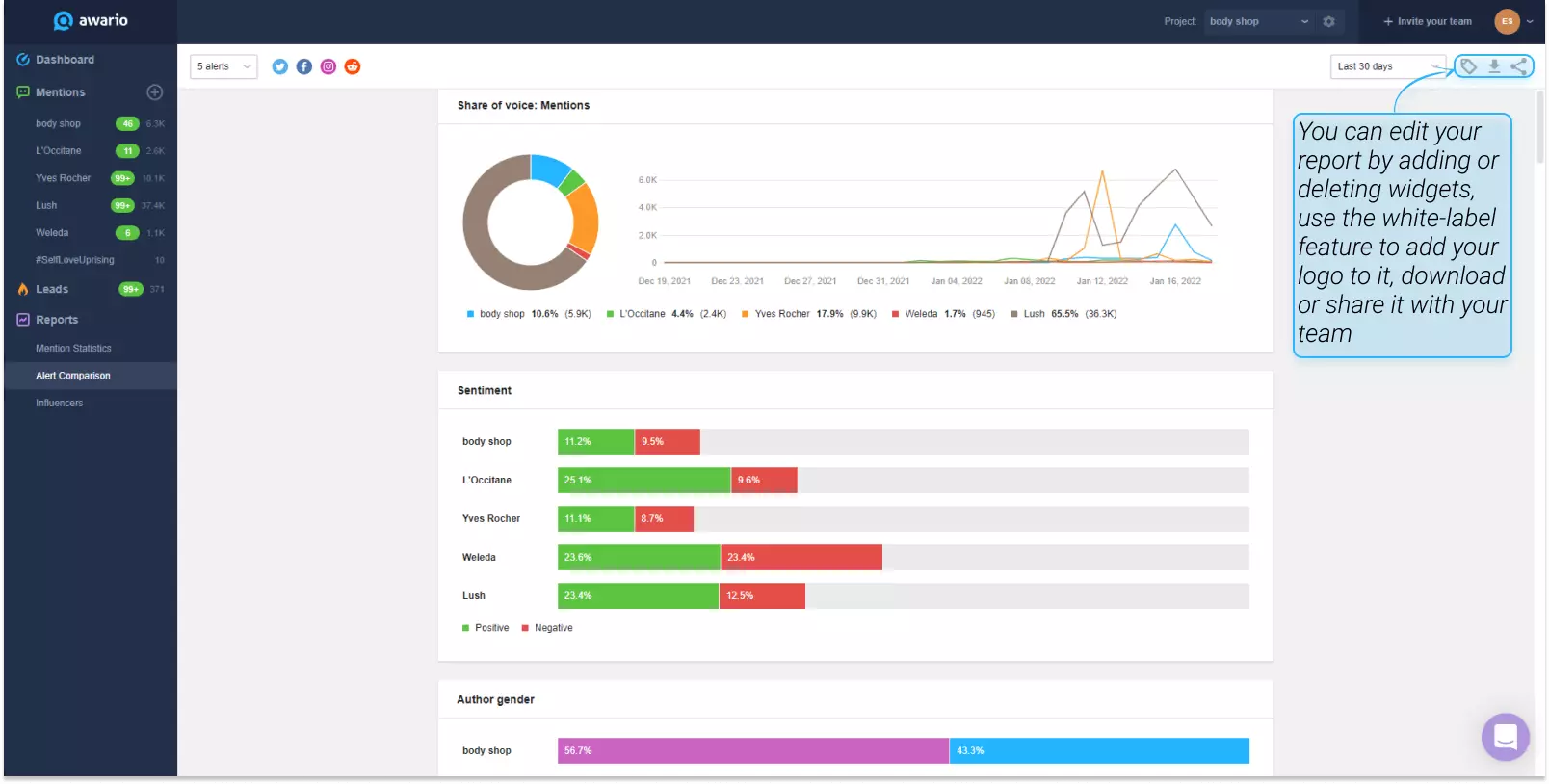 Lastly, you have the Influencers report, where all social profiles that mention your brand or keyword are gathered. It is your influencer database. Bet, you can find there some contacts for fruitful collaborations! Awario shows the audience, the number of mentions, and sentiment for each social account in the list. You can generate additional lists of influencers for a particular source you track, for instance, News and Blogs, or get a summary report with top influencers on all social networks the tool scans for you.
Enjoying the post? There's more.
Sign up for our newsletter to get our best content by email.
Don't limit yourself to one feature
Topic cloud helps reveal popular topics and hashtags, analyze the competition marketing endeavors, and keep your social media calendar actual and relevant to your subscribers. However, social listening tools provide you with many other metrics and analytics. Use them all, and you will succeed on socials.