Like Nastya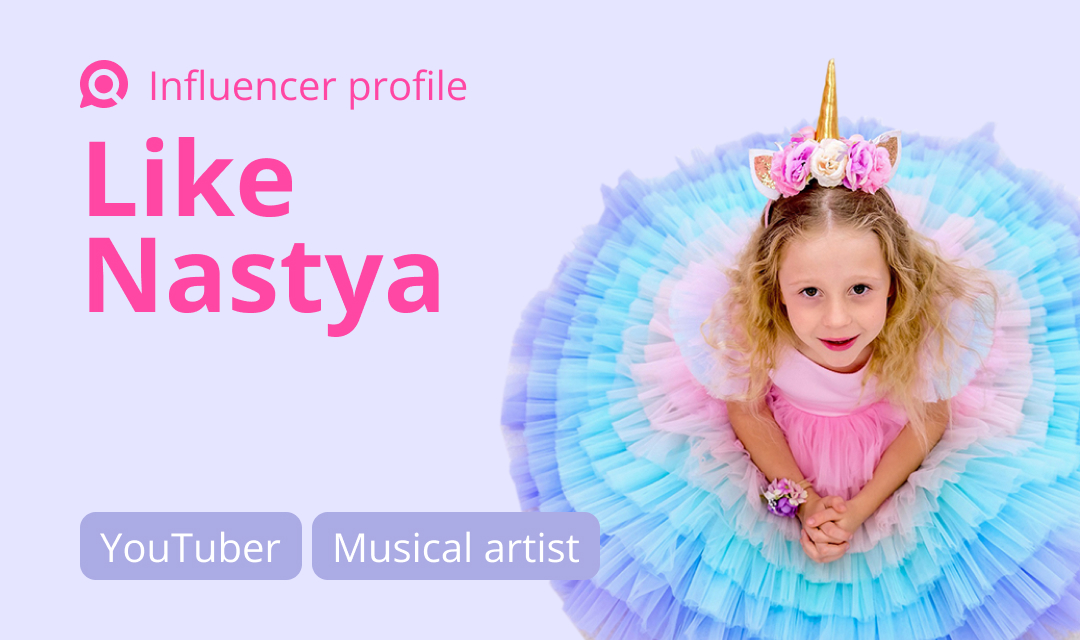 Like Nastya information

Category

Children

Like Nastya

Net worth

$260M

Like Nastya

Birth date

January 27, 2014

Like Nastya Gender

Female

Like Nastya

Nationality

Russian

Like Nastya

Location

Miami, Florida

Like Nastya

Height

4'1" inch (124 cm)

Like Nastya

Weight

77 lbs (35 kg)

Like Nastya

Website

likenastya.com

Like Nastya

Email

info@likenastya.com
Like Nastya description
Welcome to Nastya's universe - where Nastya and her parents play, learn, sing, explore and share their life experiences.
Millions of kids and families from all over the world join Nastya every day to explore the world and learn about songs, numbers, nature, colors, shapes, animals, and the importance of eating healthy food, washing hands, being a good friend, and much more.
About Like Nastya
Anastasia Sergeyevna Radzinskaya known online as Like Nastya, is a Russian-American YouTuber. She and her parents, Sergey and Anna Radzinskaya, host several YouTube channels producing original child-oriented stories and roleplays. Her main channel is the 5th most-viewed and 7th most-subscribed channel in the world
Like Nastya biography
Anastasia was born in Krasnodar Krai, Southern Russia. Diagnosed with cerebral palsy, her doctors feared she might never be able to speak.
Before starting their channel, Anastasia's mother Anna owned a bridal salon in Krasnodar while her father Sergey owned a small construction company. In 2015, Anastasia's parents sold their companies, and in January 2016, they created their YouTube channel, which grew rapidly from their content. The family later relocated to Miami, Florida.
Anastasia's parents signed with multi-channel network Yoola and social media company Jellysmack. According to Forbes, Anastasia was "one of the world's fastest-growing creators, thanks to videos in seven languages" in 2019, becoming the third highest-paid YouTuber in the world, with an estimated annual income of $18 million.
Like Nastya YouTube
Like Nastya

Followers

9M

Average Likes

142.3K

Average Comments

605

Engagement Rate

1.5%

Media Count

1771
Like Nastya Instagram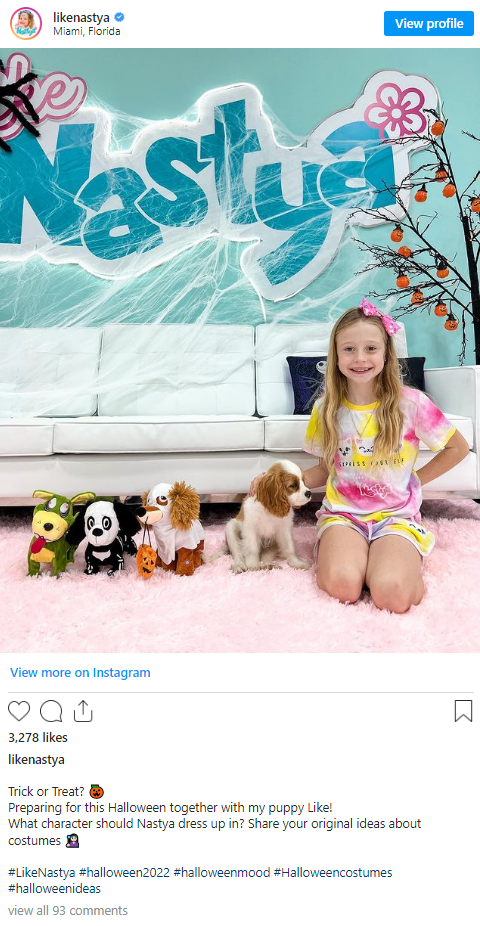 @likenastya

Followers

3.9M

Average Likes

7.5K

Average Comments

309

Engagement Rate

1.5%

Media Count

10.3K
Like Nastya TikTok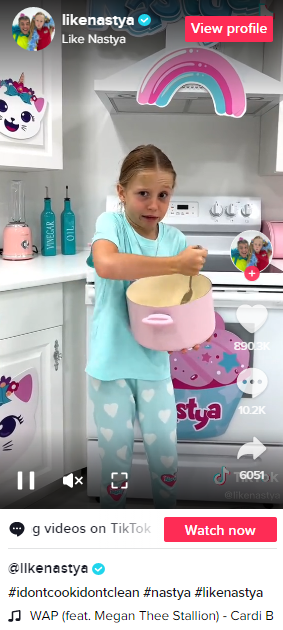 @likenastya

Followers

424K

Total Likes

122.6K
---