Plans and quotas
Currently, there are three standard plans. Each plan has different price and monthly limits. We have limits in a number of projects, alerts, stored mentions per alert, monthly limits of mentions and external activities.
A mention alert contains your search query as well as mentions Awario finds. To receive more relevant results, you can enter multiple keywords in your alerts.
Monthly mentions limit is the overall amount of mentions that can be collected during a month, including removed ones.
Mentions per alert limit is a number of mentions that can be stored in the mention feed. When an alert reaches the limit, Awario stops collecting mentions for 24 hours or until mentions are removed manually.
After 24 hours the older mentions in the mention feed will be replaced with the new ones.
You can check your limits any time in your account settings. To access account settings, first, click your profile picture in the top right corner of the app:
Then click the Billing button and here we are. You can see all the limits available, the next renewal date, and your payment history.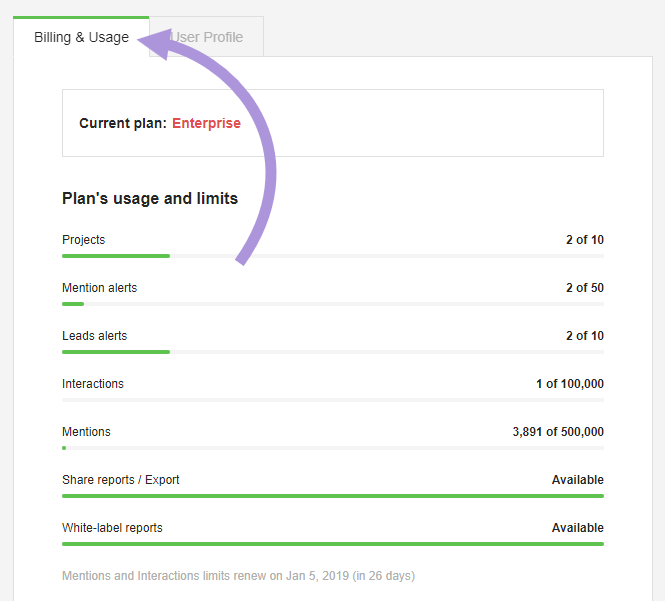 Awario is available by monthly or annual subscriptions. In the course of a year, an annual subscription will save you $58 with the Starter plan, $178 with Pro and $598 with the Enterprise plan. You can cancel your subscription at any time. Also, we can devise a custom subscription plan to meet your specific needs.
Note that you don't need a credit card to sign up for a free 7-day trial. There's no commitment: you can cancel your Awario subscription anytime by contacting our support team.
Here's a sum-up of Awario's plans:
| | | | |
| --- | --- | --- | --- |
| | Starter | Pro | Enterprise |
| Projects | 1 | 3 | 10 |
| Mention alerts | 3 | 15 | 50 |
| Mentions per alert | 5,000 | 15,000 | 50,000 |
| Monthly mentions | 30,000 | 150,000 | 500,000 |
| Export | ✖ | ✓ | ✓ |
| Reports sharing | ✖ | ✓ | ✓ |
| White-label reports | ✖ | ✖ | ✓ |
| Account manager | ✖ | ✖ | ✓ |
| API | ✖ | ✖ | ✓ |
| Monthly subscription | $29/month | $89/month | $299/month |
| Annual subscription | $290/year | $890/year | $2,990/year |
---